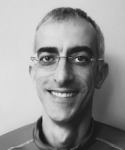 Andreas Zanzoni
Socio Ordinario
Professore associato
Aix-Marseille University, TAGC UMR_S1090, Marseille, France
Contact Information
RESEARCH AREA
biological data integration,network systems,sequence analysis,structure analysis,system biology
RESEARCH ACTIVITY
Interested in understanding the molecular basis of human disease using network-based approaches.

- Host-microbe protein interactions and chronic diseases
- The role of protein-RNA interactions in cell networks
- Multifunctional proteins, regulatory sites and signal transduction
- Charting the host-pathogen interactomes between Coronaviruses and the human host
SELECTED PUBLICATIONS
1) Ribeiro DM, Prod'homme A, Teixeira A, Zanzoni A, Brun C. The role of 3'UTR-protein complexes in the regulation of protein multifunctionality and subcellular localization. Nucleic Acids Res. 2020 Jul 9;48(12):6491-6502.

2) Ribeiro DM, Zanzoni A, Cipriano A, Delli Ponti R, Spinelli L, Ballarino M, Bozzoni I, Tartaglia GG, Brun C. Protein complex scaffolding predicted as a prevalent function of long non-coding RNAs. Nucleic Acids Res. 2018 Jan 25;46(2):917-928.

3) Zanzoni A, Spinelli L, Braham S, Brun C. Perturbed human sub-networks by Fusobacterium nucleatum candidate virulence proteins. Microbiome. 2017 Aug 10;5(1):89.

4) Zanzoni A, Brun C. Integration of quantitative proteomics data and interaction networks: Identification of dysregulated cellular functions during cancer progression. Methods. 2016 Jan 15;93:103-9.

5) Via A, Uyar B, Brun C, Zanzoni A. How pathogens use linear motifs to perturb host cell networks. Trends Biochem Sci. 2015 Jan;40(1):36-48.

6) Soler-López M, Zanzoni A, Lluís R, Stelzl U, Aloy P. Interactome mapping suggests new mechanistic details underlying Alzheimer's disease. Genome Res. 2011 Mar;21(3):364-76.
OTHER MEMBERSHIPS
EDITORIAL BOARDS
Microbial Cell (Academic Editor), Frontiers in Molecular Biosciences (Associate Editor), Frontiers in Bioinformatics, Frontiers in Genetics and Frontiers in Physiology (Review Editor).