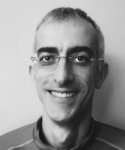 Andreas Zanzoni
Socio Ordinario
Professore associato
Aix-Marseille University, TAGC UMR_S1090, Marseille, France
Contact Information
RESEARCH AREA
biological data integration,network systems,sequence analysis,structure analysis,system biology
RESEARCH ACTIVITY
Interested in understanding the molecular basis of human disease using network-based approaches.

- Host-microbe protein interactions and chronic diseases
- The role of protein-RNA interactions in cell networks
- Multifunctional proteins, regulatory sites and signal transduction
- Charting the host-pathogen interactomes between Coronaviruses and the human host
SELECTED PUBLICATIONS
1) Ribeiro DM, Zanzoni A, Cipriano A, Delli Ponti R, Spinelli L, Ballarino M, Bozzoni I, Tartaglia GG, Brun C. Protein complex scaffolding predicted as a prevalent function of long non-coding RNAs. Nucleic Acids Res. 2018 Jan 25;46(2):917-928.

2) Zanzoni A, Spinelli L, Braham S, Brun C. Perturbed human sub-networks by Fusobacterium nucleatum candidate virulence proteins. Microbiome. 2017 Aug 10;5(1):89.

3) Zanzoni A, Brun C. Integration of quantitative proteomics data and interaction networks: Identification of dysregulated cellular functions during cancer progression. Methods. 2016 Jan 15;93:103-9.

4) Via A, Uyar B, Brun C, Zanzoni A. How pathogens use linear motifs to perturb host cell networks. Trends Biochem Sci. 2015 Jan;40(1):36-48.

5) Soler-López M, Zanzoni A, Lluís R, Stelzl U, Aloy P. Interactome mapping suggests new mechanistic details underlying Alzheimer's disease. Genome Res. 2011 Mar;21(3):364-76.
OTHER MEMBERSHIPS
EDITORIAL BOARDS
Microbial Cell (Academic Editor), Frontiers in Molecular Biosciences (Associate Editor), Frontiers in Genetics and Frontiers in Physiology (Review Editor).